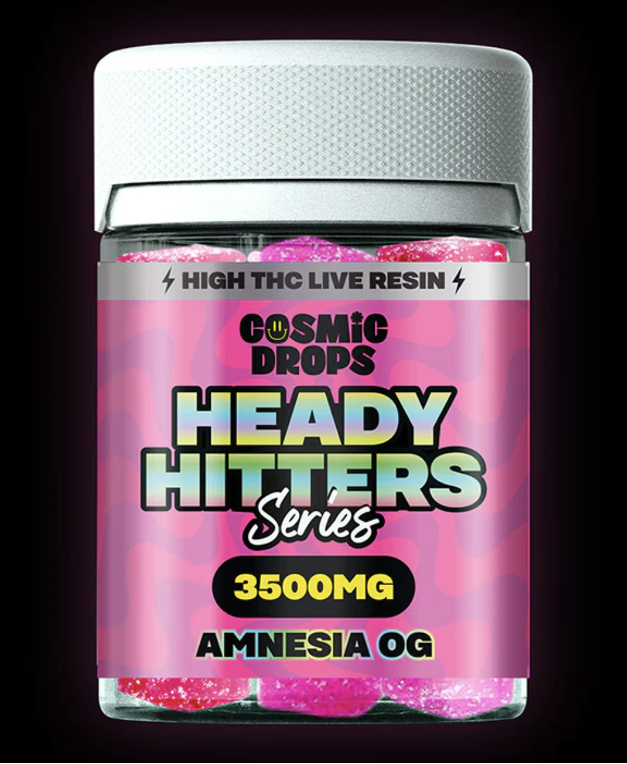 Heady Hitters Amnesia OG And Other THC Gummies To Try
Unless you have been living under a rock the last decade or so, chances are you've heard of THC edibles. And one of the most popular and well-known forms of those edibles are THC gummies.
And it's no surprise, because who wouldn't want to enjoy the combination of delicious candy and euphoria?
What Makes THC Gummies Such A Hit?
Gummies have been all the rage lately, simply because of how easy and convenient they are!
If you are someone who wants the benefits of CBD, THC, or any other cannabis compound, but doesn't want to mess with oil drops, or smoking, or even vaping for that matter, then gummies just make sense!
Gummies also are a hit because of the convenience and discreteness they provide. You can take them with you anywhere in your bag or purse, take them when it is best for you, meanwhile no one will even know you aren't just eating a vitamin or candy. 
On top of that, they are much easier to dose than rolling your own joint or vaping.
If it is your first time though, or you are just getting started, you'll want to make sure you are following proper dosages, and not jumping in full force.
Why Would Someone Choose Delta-8 THC Over Normal THC
Delta-8 provides some of the same benefits as common THC, but they both differ a bit from each other in chemical structure.
Both provide euphoric effects, pain relief, and relaxation, but Delta-8 THC does so in a milder way.
So if you are someone who wants those benefits, but just maybe wants them in smaller effect, Delta-8 would be right up your alley.
Try Amnesia OG or Any Other Of Our Delicious THC Gummy Flavors
Now that you know what THC and Delta-8 THC gummies, like Amnesia OG Heady Hitters, are all about, you can probably understand the hype a bit more!
With that being said, we don't want to leave you in the dark when it comes to trying these. Here are our suggestions for our best, and most popular flavors, and what sets them each apart.
Heady Hitters Amnesia OG
Amnesia OG Strain Gummies are the highlight of today's discussion, so it's only right that we bring them up first!
The Amnesia OG gummies feature the taste of fresh ripe strawberries that will make getting your Delta-8 dosage up much more enjoyable. It's uplifting, provides euphoric feelings, and packs a good smooth punch with 175mg of our proprietary THC blend in each bite.
Heady Hitters Golden Pear
With a mixed flavor of peach kush and ripe golden pear, there is no way you can go wrong with the Heady Hitters Golden Pear Gummies.
If you enjoy potent Delta-8 with a splash of pear, these are your go-to.
Heady Hitters Hawaiian Kush
If pineapple and fresh lemonade sound like something that could be a delicious concoction, then look no further than the Heady Hitters Hawaiian Kush THC Gummies.
With a tropical taste and powerful THC, you're definitely going to be feeling the island vibes.
Get Your Amnesia OG THC Gummies Now
Head over to the Cosmic Drops online store now to purchase your Amnesia OG THC gummies, or to check out any of our other products.